Welcome to the
Drum Hub
The all-in-one program to
accelerate

your progress and

transform

your playing in 8 weeks. Apply Now
You'll revolutionize your approach to the drums

in only 8 weeks

. With

one-on-one lessons,

interactive workshops, and personalized feedback to help you reach your full potential.
Do you want to turn your passion for drums into a powerful skill that lets you play what you hear in your head with confidence and ease…
…without fatigue, overwhelm, or "what the heck do I practice next" syndrome…
Ultimately finding the confidence to become the drummer you've always wanted to be?
If you know WITHOUT A DOUBT
That your current practice strategies feel random at best (ever try pulling YouTube lessons out of a hat?)…
OR
That you're not making the progress on the drums that you should…
Then keep reading.
There's a better path. Get endless inspiration and FREEDOM on the drums in less time than you ever thought possible!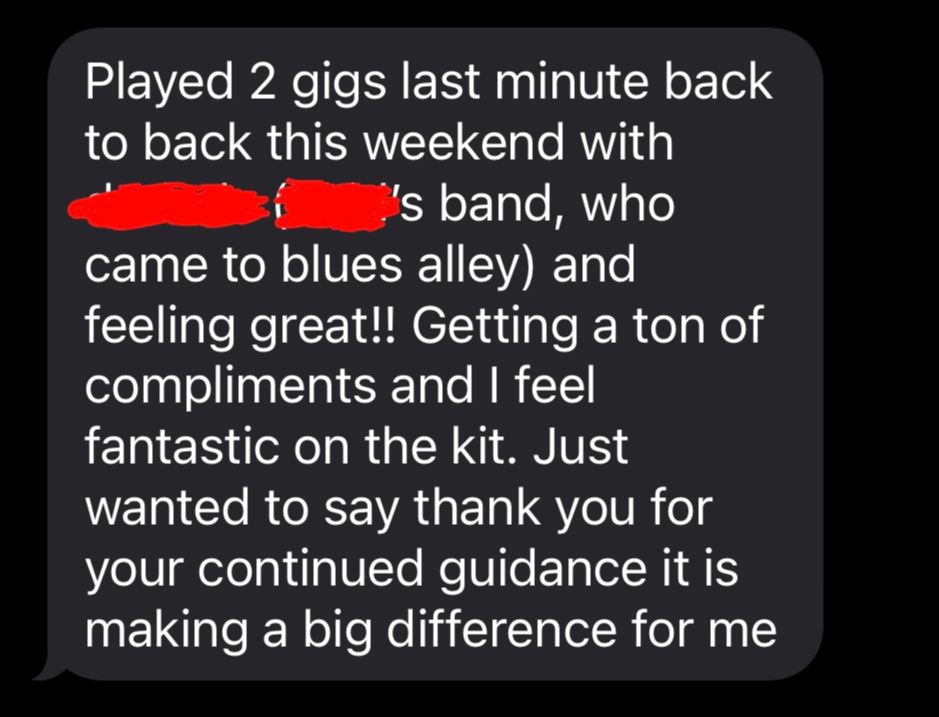 You've got more drum lessons at your disposal than ever before –
… YouTube and Instagram mini lessons
… Crash courses
… Membership sites
… and if you're old enough (like me) – drum books and (gasp) DVDs.
You'll find tens of THOUSANDS of drummers on the most popular drum education sites and platforms…
Tens of thousands of drummers that are passionate and determined just like you.
But how many successful drummers do you see coming out of them?
The number is so low it might as well be zero.
But it's not because their methods are "wrong."
They just aren't painting the complete picture.
Sure, you may have learned all about displacing rudiments and practiced transcriptions of your favorite rock songs note-by-note…
But has that gotten you what you really want?
If you feel discouraged by all the resources online while you watch other drummers and think, "I'll never get there…"
Here's the real question to ask yourself:
With all that intense effort and practice, isn't it time you
start seeing some real progress?

With all the time, commitment, and practice you've already invested in your drumming, you deserve to get results.
You should know how it feels to pick up the sticks and play comfortably – with ease.
You should put your sticks down after playing and NOT feel like your hands are falling off.
You should step off stage with your band and say to yourself, "I NAILED that."
And ultimately, you should sit down at the drums and feel CONFIDENT with all the progress you've made in just a few short weeks.
Now that might sound easier said than done, and I get it.
If you feel like you're spinning the wheels, putting in effort and only seeing minimal progress, it's not your fault.
You might be thinking, "I've tried everything. I've watched countless tutorials, practiced hours on end, and maybe even took a few lessons. Why am I not getting better?"
It's okay to feel that way.
Drumming, like any other skill, takes more than just time and repetition. It's not about grinding through another set of patterns, or pushing the limits of your hand speed:
5
reasons you feel "stuck" in that dreaded drumming "plateau" and
how you can break free:
You Think You Don't Have Natural Rhythm
You're "Too Old" to Improve as a Drummer
You Don't Have Enough Time
Your Confidence Isn't There
You Are Always On Drumming "Sidequests"
The path to becoming a great drummer is

simpler than you think.
If you've made it this far, then you know how much of a struggle it can be to make progress sometimes.
But you've probably had those occasional moments of trying something new expecting to falter but instead you say…
"Oh! This is easy! I get it!"
So here's the thing not enough people get:
Improving on the drums is supposed to feel EASY, when you know how to get there!
Maybe you've been used to those tiny, incremental improvements every week or month in your drum lessons, where you learn a little bit more about this beat or that rudiment, but never quite feeling like you are NAILING the fills of that Rush tune the way you see the pros can.
But you'll find that when you shift your perspective, you'll discover you ALREADY have what it takes to take your drumming to that next level...
The Drum Hub is a COMPLETE, step-by-step program for you to:
develop great technique and

eliminate wrist pain

with a simple, step-by-step approach.
play faster, longer, and more fluidly with personalized guidance every step of the way
learn the ins and outs of mastering COORDINATION once and for all, with an easy to understand system for getting there.
learn the secrets directly from the masters of the craft (more on that a bit later)
finally play the drums with CONFIDENCE, knowing that every step of the way, you finally have the tools to take your journey exactly where YOU want to go!
Yes, this is all totally within your reach (whether you've been playing 6 months or 20+ years)…
… but it does depends on you taking a proven, step-by-step approach.
One that hyper focuses on the things that make a real difference in your playing, while avoiding all the distractions and shiny objects that attract us drummers away from what truly matters.
One that has been behind my own path and story, and has made me so passionate that it's become my MISSION to pay it forward personally to hundreds of drummers after me.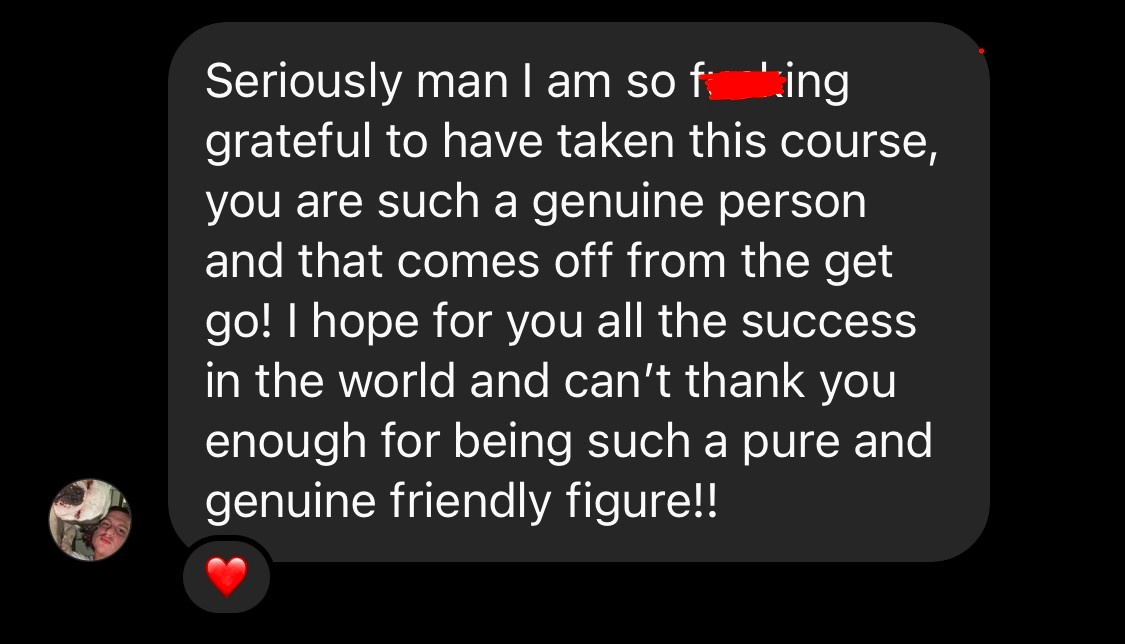 So if you're still reading, this all brings up an important question:
Who am I and why should you believe me?
Hey!
Dimitri here... but you can call me Meech.
When I'm not binge watching The Mandalorian or obsessing over how to make the perfect cappuccino, I spend my days running recording studios, producing records, and playing drums on tour and on recordings for hundreds of artists.
And while I feel very grateful to do what I do, there's a lot more to it than just luck...
In fact, the only reason I'm so passionate about helping drummers like you is because after years of work...
a) I've systematized exactly what worked for me and
b) I've seen it work for so many students

just like you
"My technique was holding me back. I was trying to get better, but I didn't really know where to start or what to do...
Since I started with Dimitri, the difference in my playing and my ability, and even the way I feel about my playing has changed tremendously."
-Frankie
"Before I started working with Dimitri, I would just relentlessly re-record stuff...
...Since I became part of his Drum Hub, he's given me the knowledge and confidence to be more independent than I ever thought possible.
Dimitri helped me become more decisive, efficient, and confident, and just enjoy creating more."
-Janna
The Drum Hub is the first program of its kind designed to accelerate your learning process and skyrocket your abilities to new heights, no matter what level of experience you have.
It's perfect for beginner drummers who want to make sure they are getting off on the PERFECT foot…
And also for more experienced players and ANYONE who wants to benefit from perfecting the fundamentals and build a foundation for more confidence and freedom on the drums.
APPLY NOW
4 Ways The Drum Hub Will

Revolutionize

Your Drumming in 8 Weeks
1-on-1 instruction with Dimitri that will coach you through YOUR NEEDS EXACTLY to transform your drumming, guiding you past the technique pitfalls and missteps that are so easy to fall into.
Group classes with the rest of your Drum Hub cohort, that will dive deep into essential topics (including some you didn't even know existed) that will provide you everything you need for long term growth and FUN.
Guest Artist Masterclasses with the world's best drummers… gain firsthand insights, ask your burning questions, and learn directly from masters of the craft.
The Drum Hub Library of archives, video courses, and learning materials, cheatsheets and workbooks so that you always know what to practice and how to improve.
You'll be guided through FULL breakdowns of techniques, simple but COMPLETE systems for mastering independence, and frameworks that will make you more creative and musical with your OWN ideas.
In other words, you can make a cup of tea in your pajamas and then hop online to get personal guidance through EVERYTHING you need to become a great drummer.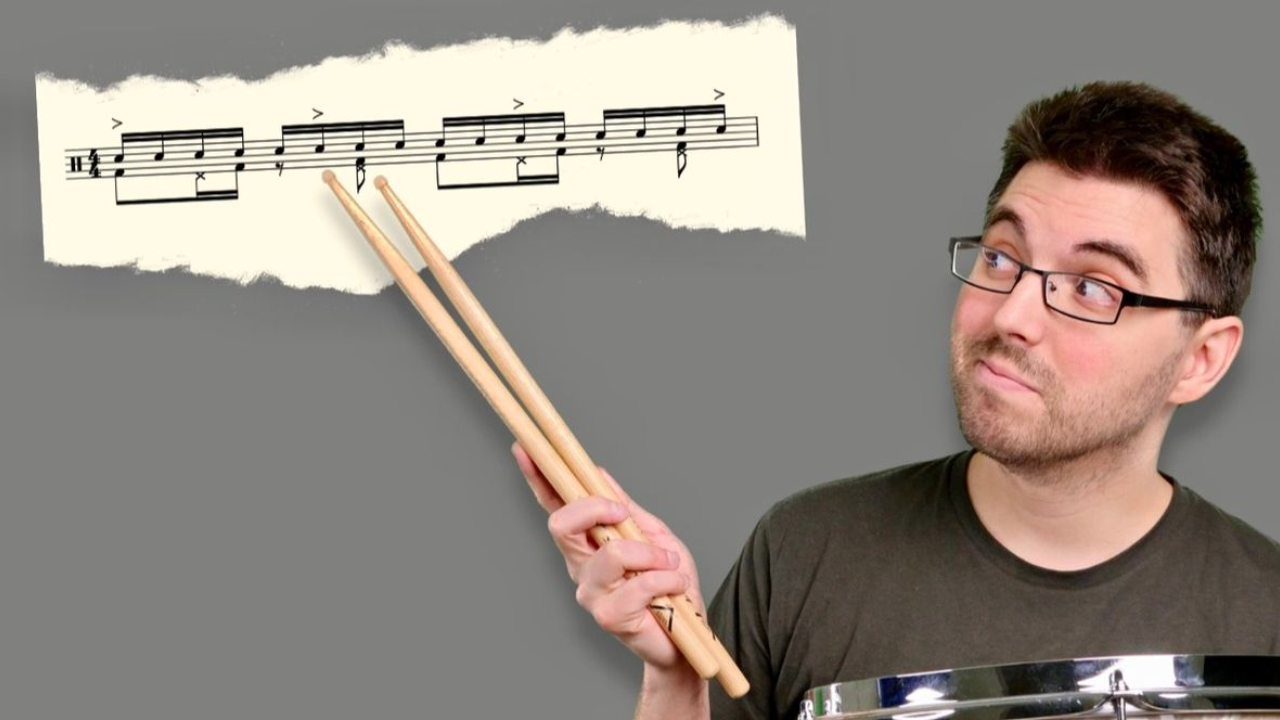 1-on-1 Lessons
This is where you'll get a bulletproof plan for revolutionizing your practice strategies and transforming your drumming.
Don't forget, the main reason you get overwhelmed with all the things you need to practice, while you simultaneously feel dissatisfied with the time it takes to make progress, is because you haven't rooted your drumming in a SOLID foundation of great practice habits and fundamental techniques.
By the end of your 8 weeks of private lessons with Dimitri, you'll have torn down your bad technique habits that are holding you back, while building them back up with a TRUE understanding of how to get real results out of your practice time.
Not to mention, we get to have a blast hanging out and playing drums together, which is always a plus!
We'll Create A Plan For Consistency: with this guidance, you'll be making constant progress in every area of your drumming. And when these are super-powered by what you'll learn in the workshops, masterclasses, and courses, the Drum Hub will make you feel unstoppable!
Guest Artist Masterclasses
Every Drum Hub season features live sessions with incredible guest teachers, who will share their wisdom and the lessons they learned along the way, along with sharing their best insights to help drummers of all levels. You'll be able to ask them questions live in each class.
You'll even get access to the archive of past classes, with guests such as Anika Nilles, Scott Pellegrom, and Bernard "Pretty" Purdie.
The Drum Hub Workshops
Every week the group workshops will provide you with an opportunity to expand your horizons on a large range of topics, alongside a community of like-minded, passionate and friendly students in your cohort. These workshops cover everything from essential techniques, to tuning and recording tips and tricks, and far beyond.
You'll also get access to all of the past Drum Hub workshops and you can even watch these at 1.5x or 2x speed, so you can learn even more while saving time 😊
Here's what we'll focus on:
Getting Greater Results In Less Time:

The secret is learning how your brain and muscle memory really work and taking advantage of that to it's fullest. I'll show you how to get the absolute most of your limited practice time, and give you clear, step-by-step methods for doing this for ANY component of drumming.
Fundamentals and Feedback:

You'll learn everything, and I mean EVERYTHING, there is to know about building a great foundation on the drums. You'll learn things about your pinky finger you didn't know were possible.
Curriculum and Systems
Core technique courses and curriculum are included in your enrollment, so you can build the best foundation possible.
Hours of lessons are provided to guide you and include:
🧠 The Blueprint Curriculum - a comprehensive path to great technique with over 3 hours of lessons featuring my personalized teaching methods and strategies
📓 Fundamental Mastery Module
📈 Single Stroke Accelerator
🎚 The Dynamic Leveling System.
🚀 Wrist Stroke Speed Builders.
✅ the Stick Grip Checklist
💡 the Fill Freedom Framework
☝️ Fulcrum and Finger Strengtheners
You'll be able to watch these lessons before, during, and after the 8 week program. Every week, you'll be able to rewatch your 1-on-1 lesson recording AND reference relevant technique lessons, with slo mo footage, close up angles, and detailed breakdowns.
PLUS after the program, you can keep coming back over and over!
9 Ways to Know You're Ready to Transform Your Drumming
You're just getting started on the drums, and you want to absolutely NAIL IT right out of the gate by

learning proper techniques and strategies

from the get go.
You've been struggling in areas of your playing for years (or decades), and even the things you DO like about your drumming get overshadowed by the limitations you feel.
You already KNOW what kind of drummer you want to be: Great! You might be looking for a path to achieve that in a realistic timeframe… but right now, you have a clear goal and visualization of how you want to sound… plus that means you have excellent taste :)
You have no problem investing a couple hours per week as long as you know every bit of energy is spent making

meaningful progress

along your drum education and journey.
In fact, you're ALREADY spending time and energy on practice routines, watching online videos and reading drum books. You might even have a private teacher but you aren't getting the results you want from any of it.
You are looking for a private teacher after those other pre-recorded courses aren't cutting it… and without outside help to get your past your plateau, you've been feeling like all your practice and efforts have left you spinning your wheels.
You're aware of your potential once you have the right systems and you're excited to

take advantage of every resource The Drum Hub has in store for you.

You're excited to meet your drumming heroes just a few weeks from now. Not only do you get access to past masterclasses, but in every Drum Hub season you'll learn from some of the greats. Check my other channels and email list for announcements on this season's guest... Sorry, Dave Grohl's busy.
You feel safe signing up knowing you have two weeks to try it out: This one's simple… As long as you show up and "do the work" the first two weeks, I GUARANTEE that you'll feel the confidence, tangible progress, and "I can't wait to play my drums now" excitement that sets you up for success through the end of the program.
If you found yourself agreeing with at least 5 of the points above, then I CAN'T WAIT to meet you inside the Drum Hub.
By this point, you know that
you already have what it takes

to transform your drumming…
You just need the
resources that can get you there.
If you're just beginning your journey, the Drum Hub is the perfect ALL-IN-ONE program to prepare you for a successful drumming future.
If you've been playing a few years, the Drum Hub will make sure you keep that momentum and develop GREAT technique, practice habits, and resources.
If your goal is to go professional, you'll be studying one-on-one with a seasoned recording and touring veteran who has been through it all and can make sure you know how to get there.
If you're ALREADY making money from behind the drums and are looking to push your skills further … you won't find a better program to accelerate your growth and career.
Enrollment for The Drum Hub is currently closed!
Get Notified When the Program is Open
You'll be the first to know when enrollment is open for the next season: